House of Harlow-esque Giveaway by Not Your Ordinary Beauty Queen
I LOVE Nicole Richie's Jewlery line!!!!! As you can see, most of the pieces I have made are greatly inspired from hers. In fact, I'm working on a new product similar to this
one
. :D
What I love most about House of Harlow Accessories is how laid back AND chic her necklaces are.
All of them are wearable on a daily basis. But with the right clothes and make-up, you can even strut them out on dinner dates and formal parties.
So that's why LITTLE ME is UBER EXCITED that Marianne of Not Your Ordinary Beauty Queen is giving it away! *faints*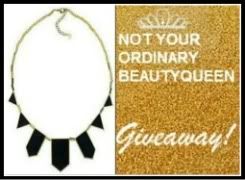 I'm corssing my fingers on this one.
And I'll be praying every night for me to win! :D
Thank you Marianne! :)
This giveaway is A-M-A-Z-I-N-G!!!
PS: I'll be hosting a giveaway of my own! Please wait for the details this Saturday. :) And also, did you notice the OVERHAUL I did these past few weeks for my blog? :D It looks super different, no? But you can leave comments and follow me now. So I hope you do!